GLEEN, combined with the power of water, safely and effectively cleans hundreds of surfaces. This unique 16 x 16 inch cloth effortlessly cleans windows, mirrors, marble countertops and more, with only water, for a streak free gleam. No need for expensive sprays, harsh chemicals or paper towels. Just dampen GLEEN with water, wring it out and experience easy  cleaning, every time. The patented fiber technology leaves behind absolutely no streaky residue or scratches and cleans the following materials: glass, ceramic, chrome, plastic, marble, fiberglass, stainless steel, leather, granite, acrylic, vinyl, wood, porcelain and aluminum.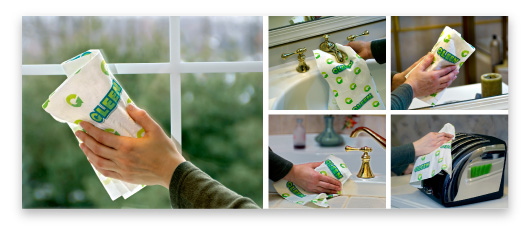 GLEEN is designed to work in your environment and protect ours. Get rid of harsh chemicals, unwanted toxins and make a difference with Earth friendly cleaning. This multi surface green cleaning solution nurtures healthy living with a nontoxic method that provides a safer environment inside and out. There are absolutely no chemicals in the GLEEN cloth; it is the unique fiber technology that makes this product completely friendly and chemical-free. Utilizing only the natural force of water, this cloth aggressively weakens and traps grime for the ultimate in a multi-purpose clean. Completely machine washable, use this cloth over and over again to reduce waste, .Not sure if GLEEN is for you? Be sure to check out our NEW  REVIEW section for the latest TV reports on the GLEEN, Green Cleaning Cloth. These noted consumer advocates put GLEEN to the test!
Please visit our SHOP PAGE for ordering information.
Call Toll Free  888-654-5336

Did GLEEN meet the Challenge? Find out
Need a little lift in your day? Everyone at GLEEN thinks laughing is essential everyday! So we made a little Jingle to bring a smile to your face. Let the toe tappin begin. We hope you enjoy it.
Audio clip: Adobe Flash Player (version 9 or above) is required to play this audio clip. Download the latest version here. You also need to have JavaScript enabled in your browser.